How To Care Bob Wigs

All human hair products need a proper way to care and style then it will make the wigs last longer than usual and today we will update the blog about the methods to take care of the short human hair bob wigs.
First advantage and the shortage of bob wigs.
Second the frequent problem of human hair bob wigs.
Third the way to take care of the lace bob wigs.
The Methods About How To Care Human Hair Wig
So First let us know in details about what is the bob wigs:
Bob Wig is a kind of human hair wigs also called short human hair bob wigs or bob human hair wigs. These kind of wigs are usually short and bouncy and suitable for all kinds of customers especially for the guys who are busy on working or mothers who do not have time or energy to style long hair or the hair wig beginners. So big advantage of bob wigs is short and also lower density than the normal wigs and then what we should take care on the bob wigs is about the density and the shedding and tangles and also the parting style problems.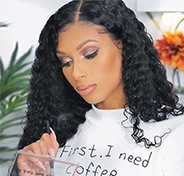 Second about the frequent problems of human hair bob wigs.
The Common Problems of the short bob wigs :
One is Shedding: Because