The Common Problem of the Human Hair Extensions
The 4 Common Problems :
Human Hair extensions are really good to make up for hair lacking or decorations. But there exist some problems with the install and style such as can not perfectly match your own hair or styles or occurs some common problems like other human hair products. To be honey there are a lot of types of hair extensions in the market for you to choose from. As for there are so many different types of hair can be chosen and buy then some customer may have the experience to deal with them but some may do not or lacking experience for the style as describing.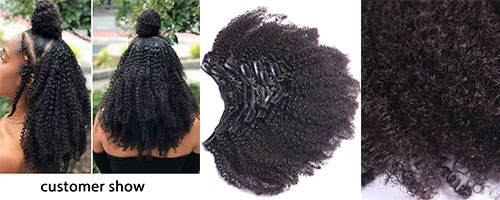 Today this is a blog to introduce what you need to know about 4 common hair extension problems and how you can avoid them and hope this will help you to get pretty hair on your head. Also, these problems may also occur on human hair wigs for black women no matter lace front wig or full lace wigs or none lace wig.
First :Easy to get tangle after washes
If you want to have a beauty looking of the hair extensions then need to avoid a problem of a tangle. Because the tangle problem will make big trouble on the looking of the appearance. All The Hair Extension may just be looking beautiful and smooth at first because all the new extensions are coated in silicone. But after a few washes then the coated in the silicone will fell out and then the extensions will no protection. So you need to use coconut mink oil and shampoo to mink them and not use a hair drier to blow it out after washing.
Second: Curly or wave texture easy to fall out to be Straight
A lot of customers just like the curly or wave pattern human hair extension and it really looks beautiful and amazing. But the problem for this kind of hair may often trouble a lot of guys, that is the curly pattern disappeared after few washing. This is common for all kinds of human hair products since all the curly pattern are made by high steam and after the wash then it will become loose so the way to wash it is very important and if you want to keep the curly pattern then when you wash the hair then you need not use a comb and you can use the finger to comb to wash it and then not use too much push with hard power to strengthen it. After you wash it then not push to dry it and also not use a hair drier to blow it.
The third :Life is too short only a few months
First, the life-span of your hair extensions depends on the quality of your hair. The high quality may last longer but all the hair extensions may last much more time with proper care methods.
Fourth: After installing and looking not natural
There are many types of hair extensions including different textures like the afro kinky curly, kinky straight, deep curly wave, and so on. If you want the texture match your own hair perfectly then before you make an order then you need to make sure the texture is more like your own hair. Then after you installed the hair you need to take care of the methods about how to style and match maxed together with your own hair. You may max all the hair together then style them together and the extensions will look more natural.