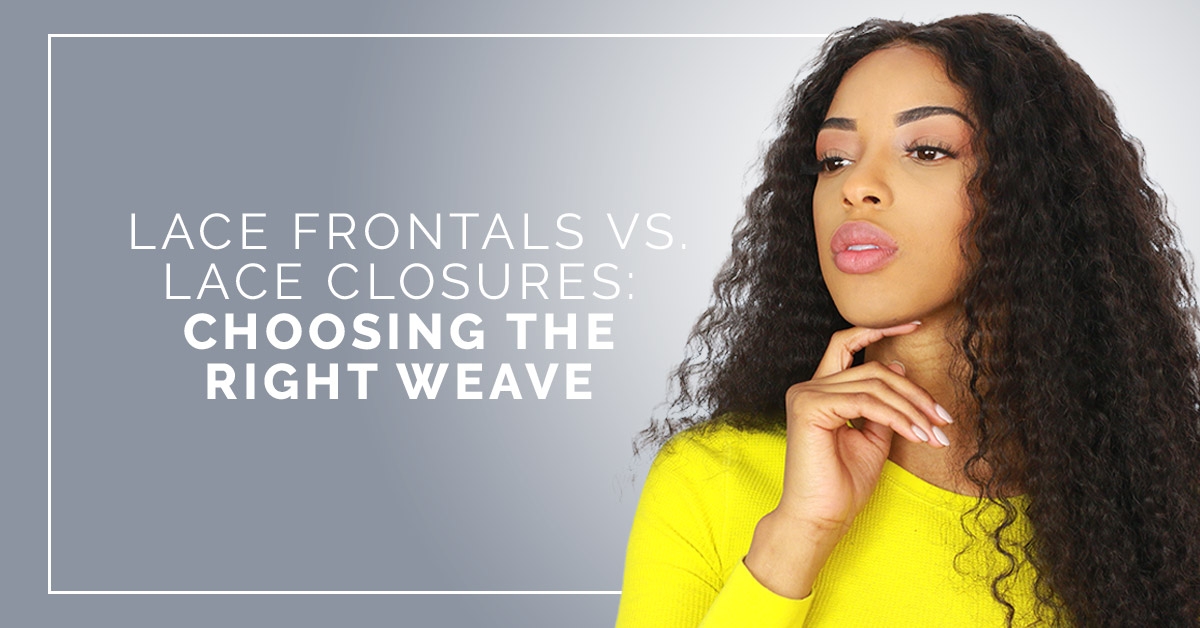 When shopping for weaves online, the biggest decision you will have to make is whether to choose a weave bundle with a lace frontal or a lace closure. Both of these options will give you a beautiful, full head of hair, but there are a few differences. Keep reading to learn how to choose the right weave from Dolago!
The Role Of The Piece
The role of the closure or frontal is essentially the same. Both options close off a weave install and serve to create a natural looking hairline. This eliminates the need to leave out portions of your hair is offers more protection than a traditional weave.
Size Differences
The biggest difference between lace frontal weaves and lace closure weaves is the size. Typically, a hair weave bundle will come with three or four wefts of hair and a closing piece, either the frontal or closure. A lace closure typically measures 4x4 inches while a lace frontal measures 13x4 or 13x6 inches. This means that a closure only covers a small portion of your head, while a frontal will stretch from ear to ear.
Hairline and Edges
This is where the real difference comes in. With a closure, only a four-inch span of your hairline will look completely natural. Meanwhile, a lace frontal will give you a natural ear-to-ear hairline. This means that if you like to pull your hair up into various styles and ponytails, you might prefer a lace frontal. If you like to pull your hair into high ponytails or top buns, try a hair weave bundle with a 360 frontal which offers a natural hairline around your entire head.
Parting Ability
Because a frontal goes from ear to ear, you can part it anywhere and end up with a completely natural look. Closures, on the other hand, have a smaller parting range and work best with center parts. However, a closure can be placed slightly off center if you want to have a side part.
Which Option Is Right For Me?
Typically, hair weave bundles with closures are a more affordable option and great for everyday wear. However, if you frequently pull your hair back or like to change up your style regularly, lace frontals will give you more versatility.
Let Us Help You Find The Perfect Weave!
Dolago is one of the largest manufacturers of human hair weaves, wigs, and extensions in the world. We have a huge selection of human hair weaves online that ship fast and free to anywhere in the world! When choosing human hair weave bundles, you have plenty of options to fit your budget, style, and preferences whether you're looking for straight weaves, wavy weaves, or curly-kinky weaves.
We love to help beautiful people find the human hair products they'll love. So if you're unsure if you should shop for a hair weave with closure or a lace frontal weave, we can help! Get in touch with our stellar team of experts if you have any questions, and be sure to shop our human hair weave bundles today!