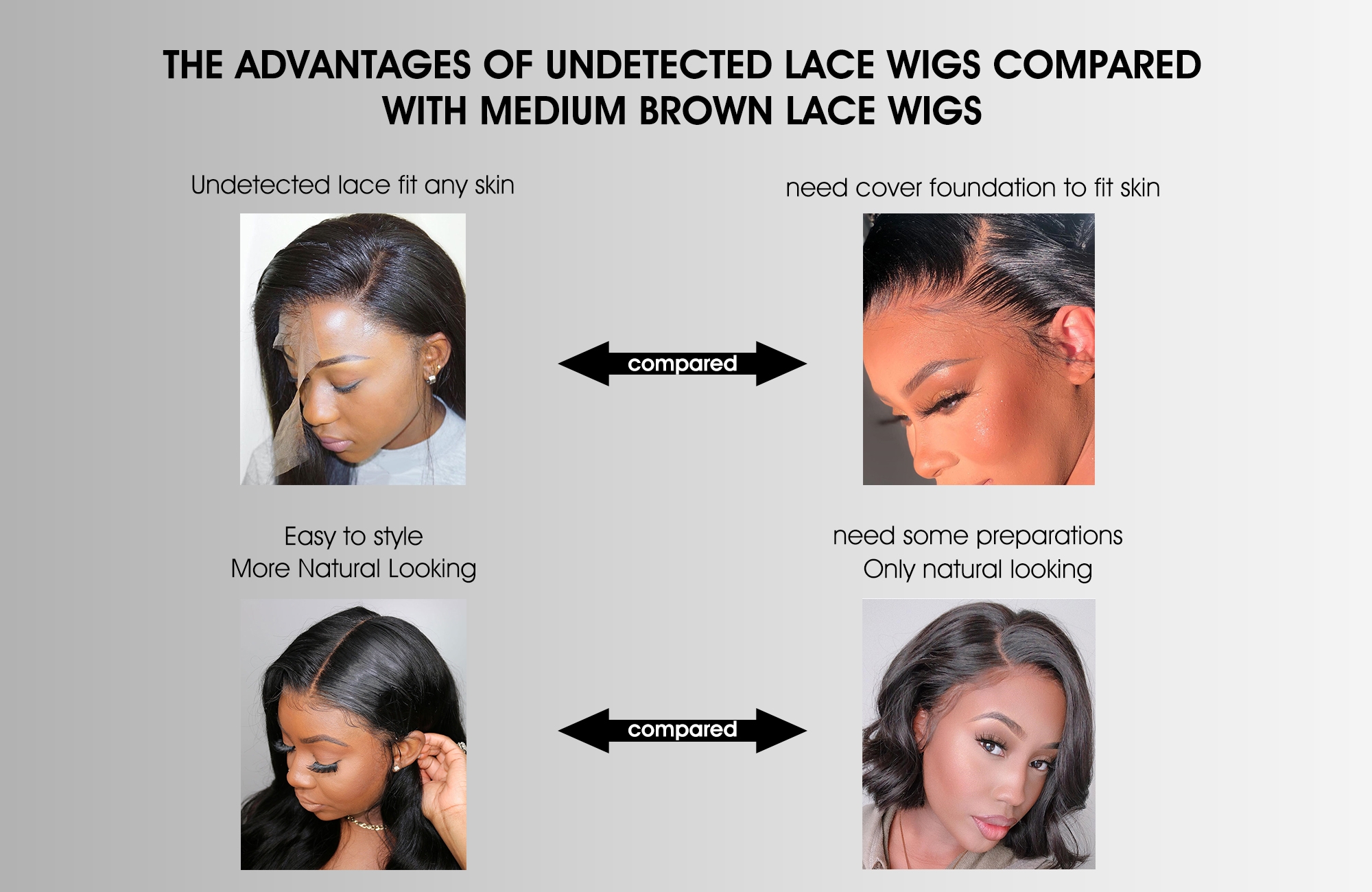 The Advantages Of Undetected Lace Wigs Compared With Medium Brown Lace Wigs
There Are Many Types Of Human Hair lace Wigs including undetected lace and normal brown lace and so on. But many of us just know that they called in different names but not know in detail about what is the advantages of each type also not know about why different guys like choose different types to use.
Today the content of this blog will introduce the details for the difference between Undetected Lace Wigs and normal lace wigs.
When you want to buy a human hair lace wig for yourself and you will find that there are too many types of lace wigs that can be chosen. But According to the lace types there only two big types, one is the undetected lace and the other one is the normal lace wigs. So based on these problems and which one to choose is a problem. Because each kind of wigs cap types its own advantages. So we need to know the difference between the two types of human hair wigs then you can know which one is more suitable for you.
What is undetected lace wigs?
The undetected lace wig also called transparent lace wig, undetectable transparent lace wig, HD transparent lace wigs, undetectable lace wigs, transparent wig, invisible lace wig. HD lace frontal wig, HD lace front wigs, HD wigs, swiss lace wig, 613 blonde wigs.
Why called undetected lace wigs?
Undetected lace means that the lace almost can not be told after you installed the wigs. So the lace of the undetected lace types looks very very thin and light also you say it is flimsy. It is a kind of material made of Chinese Traditional silk so that it will very comfortable and natural-looking.
The Advantage of undetected lace wigs
First, Undetected lace wigs is a kind of wigs that beginner user was friendly. Because you no need too many skills to style the lace to let it looks natural.
Second, the undetectable lace wigs are very soft on the lace cap and it will be more suitable and comfortable for the user.
Third, hd transparent lace wigs the lace looks very very thin and light so no matter what kinds of human hair styles you want to try then it will looks more natural.
Forth, it is a kind of wigs that suit for all kinds of skin so no matter what kind of skin you have and then you no need worried it will not fit it.
Fifth, HD wigs are a kind of human hair lace wigs that will help you to save a lot of time and also save you extra money on the install. Because you no need extra Cover Foundations to make the lace color to fit your skin and also no need go to a salon or others help. So it is a kind of wigs that you can install and style it yourself.
Sixth, The undetectable transparent lace wig is very natural looking and the knots on the lace parting is almost can not find so it will be the most natural-looking on the head. And you no need worried about the bleach knots problems.
The common problem of the invisible lace wig
First, as we know the HD undetected lace is very thin and light so it will not afford too much density on the wig cap. So if you want a very higher density like 300% or 250% density lace wigs then it will be hard to do on the HD lace parting.
Second, the HD lace may easy to break than then French lace so it will not bear too high temperature on the pace parting. So when you style the wigs on your head then you need to take care of the lace parting.
Third, the HD lace wig is also a kind of human hair lace wigs and so it may also occur the common problems of other human hair wigs like shedding and tangle.
So when you style the wig then you need to take care of the methods such as not use a too hot blow drier to blow it and not use a too thin comb to comb it.
The French Lace medium brown lace wigs
The French lace wigs are normal lace type wigs. Usually, the normal lace wigs of human hair are commonly used. There are their Kinds of lace color light brown, medium brown, dark brown. So if you have not the medium brown lace color skin then you need to use some Foundation to cover the lace to make it fit your skin and it is hard for the beginner user since it needs some skills to style it on your head. Also, the French lace may not look such natural compared with the HD lace types on some hairstyles.
So if you do not want to use too many skills or time on the wig styling but also want it looks natural, then the HD undetected human hair lace wig is the best choice for you.